ENIGMA-Epilepsy is a new working group dedicated to improving our understanding of in vivo neuroanatomical disruptions in people with epilepsy compared to healthy individuals in the general population.
The project was officially launched at The Royal Society, London in March 2015 by Dr. Christopher D. Whelan (USC) and Professor Sanjay Sisodiya (UCL). 24 epilepsy centers from North America, South America, Europe, Australia and South East Asia have signed up for the effort.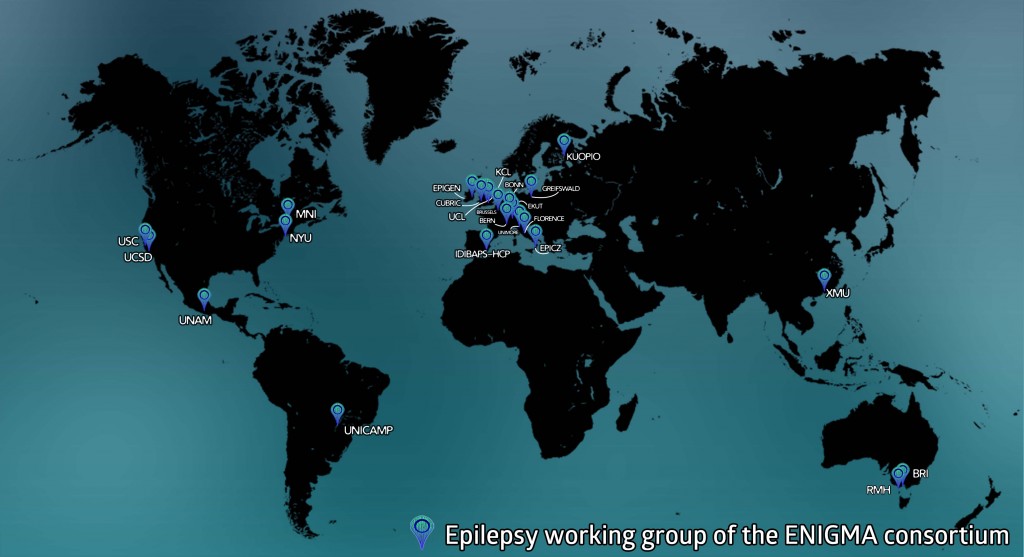 The main objectives of ENIGMA-Epilepsy include:
To create a worldwide network of epilepsy neuroimaging centers.
To collect summary statistics on brain shape, brain volume and brain wiring from thousands of people with epilepsy and thousands of neurologically healthy controls.
To compare and contrast these measures in affected/unaffected groups and, accordingly, illustrate possible differences between the two.
To identify structural differences between the major forms of epilepsy and major types of seizure.
To develop collaborations and infrastructure for future analyses.
If your laboratory is interested in contributing towards ENIGMA-Epilepsy, please contact Dr. Christopher D. Whelan and/or Professor Sanjay M. Sisodiya.
Further information on ENIGMA-Epilepsy, including full analysis protocols, can be found in the links at the top of this page.
ENIGMA on social media: