The aim of the ENIGMA-SCT working group is to bring together Schizotypy (SCT) research groups towards large scale meta-analyses of neuroimaging data across many different studies and datasets.
Our call for participation is open and we look forward to welcoming new partners! If you have existing imaging data on healthy participants who completed a validated schizotypy / subclinical psychotic-like experiences questionnaire, if you are planning to start such a study, or if you would like more information, please contact Drs. Gemma Modinos and André Aleman. We are always open to new datasets and collaborators! The only prerequisite is that each participating group must follow the ENIGMA Memorandum Of Understanding (MOU) guidelines.
To get started, you should usually run your dataset through the current ENIGMA Imaging Protocols (found here), and we can help you with that.
As a first goal, we are analysing T1-weighted brain MRI data from multiple sites in order to shed light into the neurobiology of schizotypy, with a focus on meta-analyses of subcortical and cortical volumes, as well as laterality. All further projects will be listed below as they arise.

Co-Chairs:
Gemma Modinos, Departments of Psychosis Studies and Neuroimaging, Institute of Psychiatry, Psychology & Neuroscience, King's College London, UK (gemma.modinos@kcl.ac.uk)
André Aleman, Department of Neuroscience, University Medical Centre Groningen, Netherlands (a.aleman@umcg.nl)

Publications:
Kirschner M, Hodzic-Santor B, Antoniades M, Nenadic I, Kircher T, Krug A, Meller T, Grotegerd D, Fornito A, Arnatkeviciute A, Bellgrove MA, Tiego J, Dannlowski U, Koch K, Hülsmann C, Kugel H, Enneking V, Klug M, Leehr EJ, Böhnlein J, Gruber M, Mehler D, DeRosse P, Moyett A, Baune BT, Green M, Quidé Y, Pantelis C, Chan R, Wang Y, Ettinger U, Debbané M, Derome M, Gaser C, Besteher B, Diederen K, Spencer TJ, Fletcher P, Rössler W, Smigielski L, Kumari V, Premkumar P, Park HRP, Wiebels K, Lemmers-Jansen I, Gilleen J, Allen P, Kozhuharova P, Marsman JB, Lebedeva I, Tomyshev A, Mukhorina A, Kaiser S, Fett AK, Sommer I, Schuite-Koops S, Paquola C, Larivière S, Bernhardt B, Dagher A, Grant P, van Erp TGM, Turner JA, Thompson PM, Aleman A, Modinos G. Cortical and subcortical neuroanatomical signatures of schizotypy in 3004 individuals assessed in a worldwide ENIGMA study. Mol Psychiatry. 2022 Feb;27(2):1167-1176. doi: 10.1038/s41380-021-01359-9. Epub 2021 Oct 27. PMID: 34707236; PMCID: PMC9054674.
Quidé Y, Watkeys OJ, Tonini E, Grotegerd D, Dannlowski U, Nenadić I, Kircher T, Krug A, Hahn T, Meinert S, Goltermann J, Gruber M, Stein F, Brosch K, Wroblewski A, Thomas-Odenthal F, Usemann P, Straube B, Alexander N, Leehr EJ, Bauer J, Winter NR, Fisch L, Dohm K, Rössler W, Smigielski L, DeRosse P, Moyett A, Houenou J, Leboyer M, Gilleen J, Thomopoulos SI, Thompson PM, Aleman A, Modinos G, Green MJ. Childhood trauma moderates schizotypy-related brain morphology: analyses of 1182 healthy individuals from the ENIGMA schizotypy working group. Psychological Medicine. Cambridge University Press; 2023;:1–13.
Locations of ENIGMA-Schizotypy Members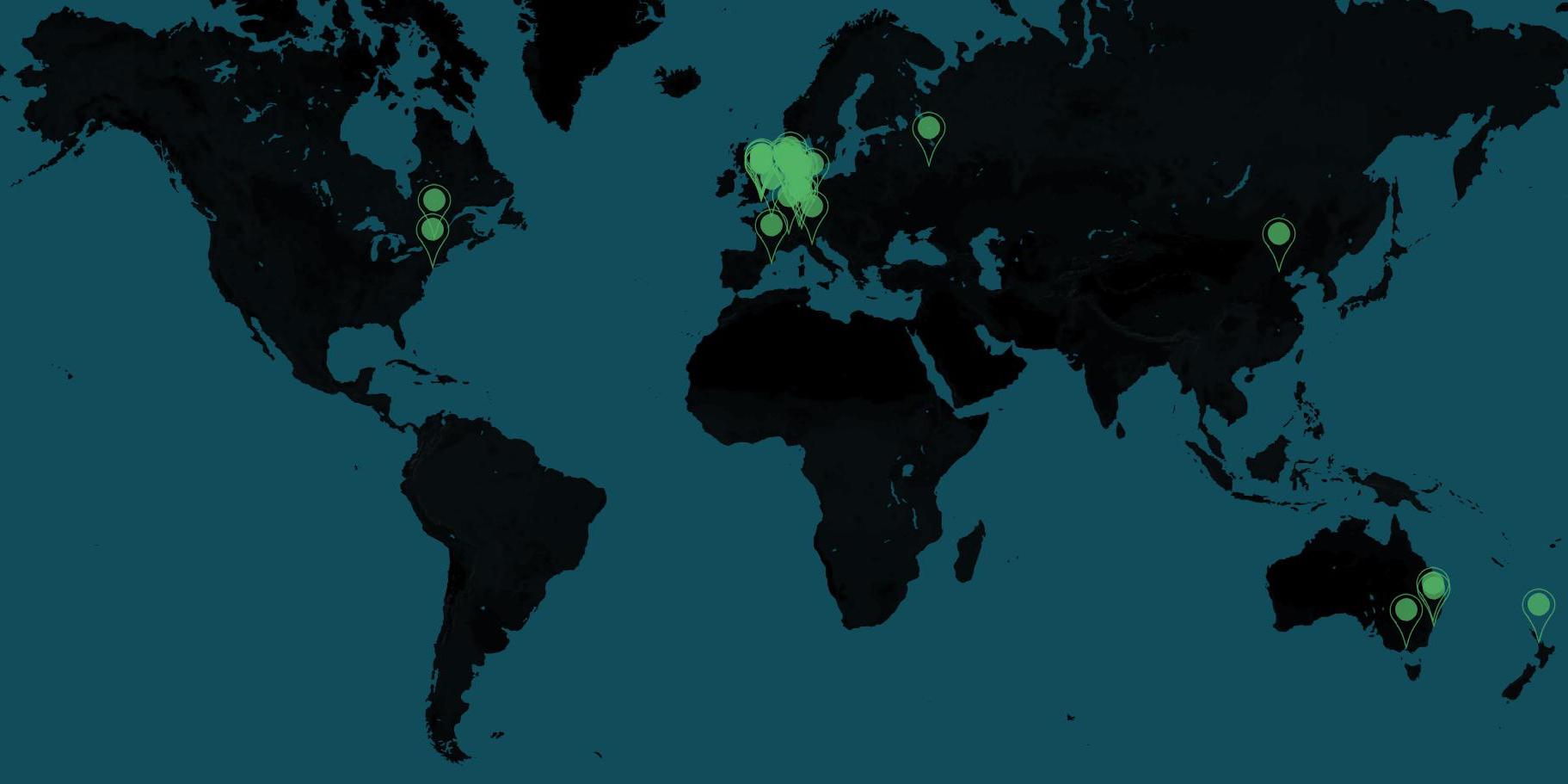 ENIGMA on social media: